Honeycomb shades and cellular blinds insulate your windows, doors, and skylights. Having large windows in a home is desirable to allow natural light to filter in beautifully. Certain Hunter Douglas honeycomb shades and cellular blinds retain heating and cooling energy that you pay for every month. Cellular shades and even roman shades create an additional barrier using layers of fabrics and air pockets to retain heat in winter or keep the cool in during summer. As well as looking into shades that will use your interiors heat efficiently, also look into windows the same properties to allow your home to be as energy-efficient as possible, companies such as Graceland Windows and Doors and many more offer energy-efficient windows, as well as doors… Meaning you won't be spending as much money on your monthly energy bill.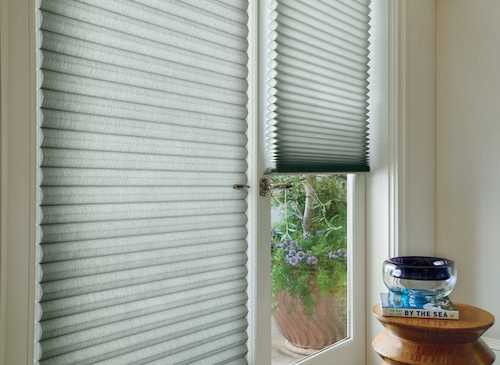 Winter Sale on Honeycomb Shades and Cellular Blinds
It's the start of a new year, and many people are looking to refresh their home. Window coverings make a significant design impact on your home décor. Get new window shades for your entire home or business with big savings at Shades On Wheels. The Hunter Douglas Energy Smart Style Savings Event is going on now until March 22, 2021*.
Receive a $100 rebate when you make any of the following purchases of Hunter Douglas energy efficient blinds:
4 Vignette® Modern Roman Shades, plus a $25 rebate for each additional unit.
4 Duette® Honeycomb Shades, plus a $25 rebate for each additional unit.
4 Sonnette™ Cellular Roller Shades, plus a $25 rebate for each additional unit.
Spruce up your space with the renowned beauty and superior quality of Hunter Douglas window shades. Not only will new honeycomb shades, cellular shades or roman window shades transform the look and feel of your home, but you will also feel warm and cozy at home this winter.
Different Types of Roman Shades, Honeycomb Shades Cellular Blinds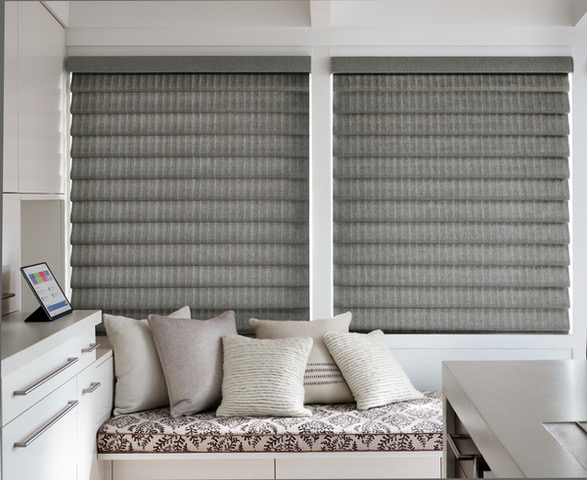 Hunter Douglas Vignette® Modern Roman Shades are distinguished by their lack of exposed rear cords providing a clean look on your windows. Vignette® Modern Roman Shades are not only a great window visual, these shades are available cordless and motorized for enhanced child and pet safety. The tucked rolling folds on roman shades create pockets of air that insulate your windows. Modern roman shades are available in a vast variety of colors, patterns, textures and fabric opacities. Blackout and room darkening liners are also available to block out the harsh winter and summer sunlight.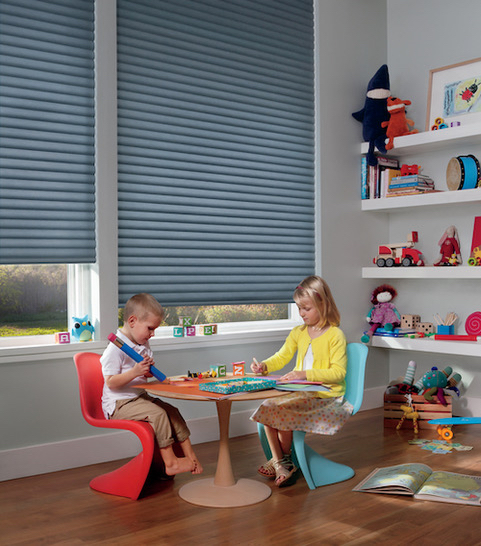 Honeycomb shades are one of the most popular types of energy efficient window blinds. Hunter Douglas Duette® Honeycomb Shades consist of a more architectural fabric structure that optimizes air pocket capacities within honeycomb-shaped cells. Honeycomb shades are the ultimate solution if you have energy efficient windows and need coverings. Consider Duette® Architella® honeycomb shades, which feature a cell within a cell for double or superior insulation.
Hunter Douglas Sonnette™ Cellular Roller Shades combine the simplicity of a roller shade and the elements of a cellular blind. This notable Hunter Douglas cellular shade is known for the clean curves and graceful appearance. Add a distinguishable feature to your windows with SoftTouch™ Motorization. SoftTouch™ is an easy to battery- operated wand control system available on Sonnette® and other Hunter Douglas window blinds and shades.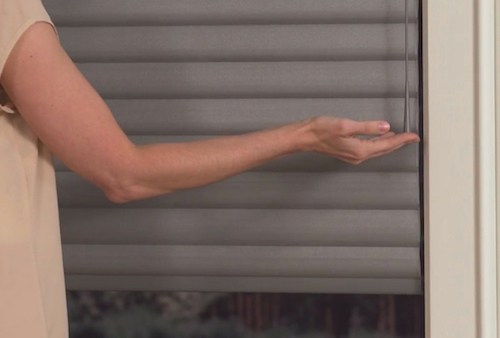 The Benefits of Honeycomb Shades
As glass has little to no insulating values, window blinds are a contributor to maintaining heating and cooling properties consistently in your home. By adding energy efficient blinds to all your windows, you'll maximize your energy savings, in the same way searching for roof repair austin tx can lead to further home insulation and therefore further savings. These measures ensure that any heat is trapped in your home; particularly important in the winter months.
During winter make the most of solar energy by opening the blinds on the windows that get plenty of direct sunlight throughout the day. The sun will heat your home and energy efficient blinds will help retain the heat on those cold winter nights. At night close your window shades to completely cover the windows to keep the heat inside your home.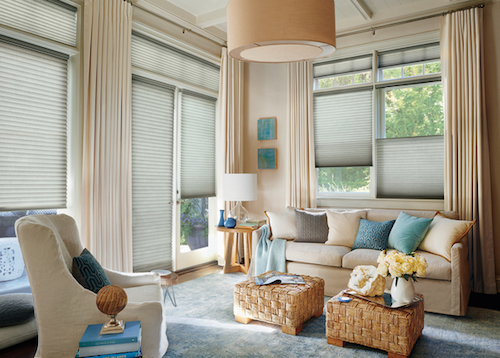 In contrast to this, during summer, too much solar energy can make homes and businesses incredibly warm. Closing energy efficient windows shades helps keep the hot sun rays out and helps you protect furnishings, hardwood flooring, and artwork. An opaque fabric works well for this time of year, as it holds window insulating properties as well as allowing natural light to illuminate your space. Learn more about Hunter Douglas energy efficient window shades.
Shades on Wheels has been providing shop at home window treatment services in Norwell, MA, Medfield, MA, Agawam, MA, Wethersfield, CT and surrounding areas for over 30 years. Contact us for more information on energy efficient window shades, and to schedule a free in-home window treatment design consultation.