Window Shades fabric made from recyclable ocean plastics are not only good for your home. Additionally, GreenScreen® Sea-Tex™ fabrics are environmental friendly helping to protect the ocean and the homes of sea animals too.
Recyclable Ocean Plastics Transform Into Window Shades Fabric
Hunter Douglas is proud to be apart of a program that has extracted tons of washed ashore plastics. The plastics have been turned into the new Sea-Tex™ fabrics. Sea-Tex™ fabrics are screen shade and Skyline Gliding Panels fabric materials made from recycled plastics. This new eco-friendly fabric is available on horizontal and vertical window shades and blinds.
Shades On Wheels offers the new line of Hunter Douglas fabrics to help protect the ocean and future of generations to come. "Fabrics made from recyclable ocean plastics are the ideal window coverings for homeowners in Cape Cod and the South Shore of Massachusetts," said Shades On Wheels Owner, Barbara Thomas. "Any customer with a coastal home will love the look and sustainability of this new fabric."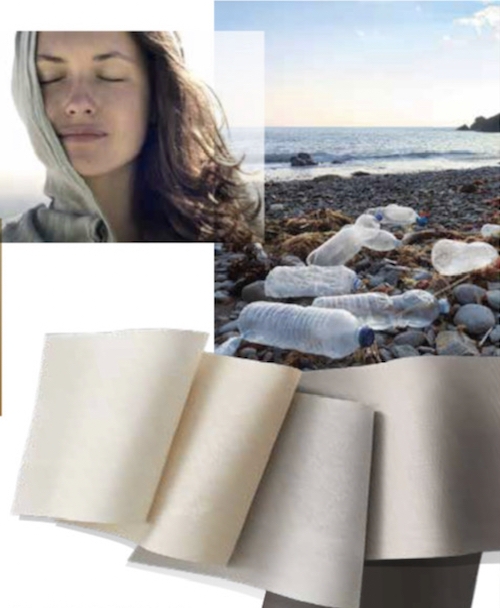 Even if you prefer a coastal feel in your Massachusetts or Connecticut home, SeaTex™ fabrics are stylish and nature-friendly window shades. There are many design options available. Customize your window with sustainable window shades. Choose fabrics with a see through openness. Decide on how much of a view you want to the outdoors and the level of privacy.
Over 30 tons of recovered shoreline plastics were used to create this new window coverings fabric. It's a purchase any homeowner can feel good about whether they are purchasing a new home or replacing existing blinds. GreenScreen® SeaTex Fabric™ is GreenGuard Certified. This means the fabrics are scientifically proven to meet rigorous standards for reducing third-party chemical emissions. Reduce indoor air pollution and minimize the risk of chemical exposure with window shade fabrics made from recyclable plastics. You will be creating a healthier indoor environment which continues to be a trend in home and commercial interior design.
Easy To Operate Environmentally Friendly Blinds
SeaTex™ fabrics are available in wide widths to cover large sliding doors and expansive architectural windows. Automate your shades with many different cordless operating systems. PowerView®, SoftTouch™, and hardwire options are available. Control window shades with one voice command from Alexa, Google, or Siri. 
Shades On Wheels shows homeowners Hunter Douglas window treatment options in the comfort of their own home. Masks and social distancing measures are in place during the pandemic. Safely choose blinds and shades to cover your windows. Contact a Shades On Wheels design specialist to show you custom shade fabrics and lifting systems. Enhance your home and lifestyle today.