Blackout shades are even more desirable now that it's getting lighter earlier in the mornings. Most people appreciate a room darkening window shade in the bedroom so they can sleep in late. Sleep is at a premium, but you can remain undisturbed by unwanted outside light with the new Hunter Douglas blackout shades called Duette® Honeycomb Shades with LightLock™. This new blackout blind doesn't just darken the room. It blocks out all incoming light. Thank you Hunter Douglas, for creating total room darkening options for homeowners.
The New Ultimate Blackout Shades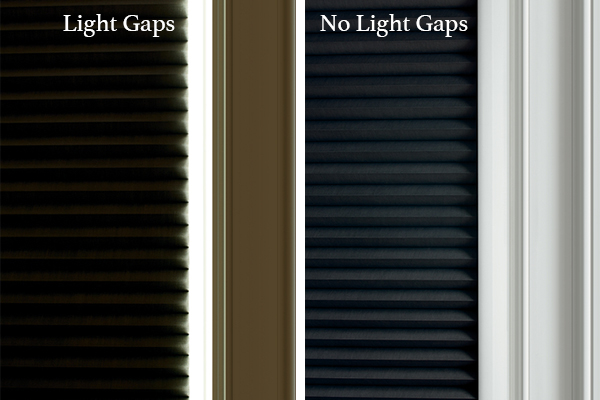 Only a few months ago, Hunter Douglas released a revolutionary blackout shades system. The Duette® LightLock™ system is a superb combination of the Hunter Douglas Duette® Honeycomb Shades and an engineered light blocking side channel. The benefits of the Hunter Douglas Duette® Honeycomb Shades cellular construction is that they provide much-needed insulation to your windows. The beautiful textured fabrics are available in light filtering and room darkening opacities. Choose a room darkening fabric and combine it with the LighLock™ system for a true blackout blind.
Hunter Douglas LightLock™ uses U-shapes side channels that overlap the back and front of your Duette® Honeycomb Shades. The channels feature rows of specially shaped micro-ridges, designed to deflect nearly all incoming light. You would previously get some light gaps along each side of your blinds. Now light seepage is stopped entirely by the LightLock™ system. If you are seeking a bedroom that's totally pitch dark, Hunter Douglas Duette® Honeycomb Shades with LightLock™ are the best blackout shades to meet your needs.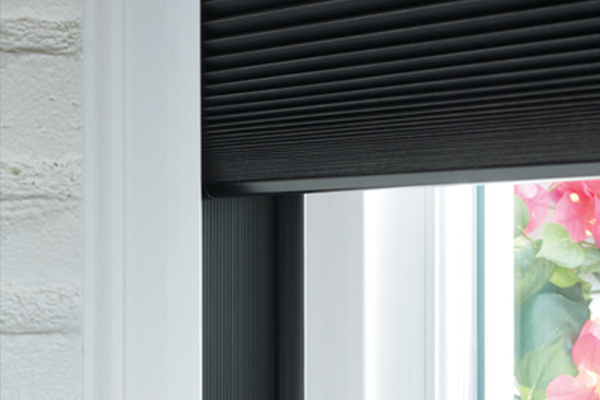 Automatically Adjust to the Light with Motorization
Today's technology is advancing so much and becoming readily available for everyday use. It won't be long until most houses are smart homes. This means that you can turn lights on and off by voice command, as well as setting your thermostat, controlling your window treatments and so much more. With Hunter Douglas PowerView® Motorization you can create the perfect ambience at any time of the day.
Use the PowerView® Motorization app on your smartphone, mobile device or tablet to open or close your blackout shades on demand. Schedule your shades according to the sunrise and sunset. You can even set the window shades to raise at a particular time in the morning and allow the natural iridescent glow of the suns rays to be your alarm clock. Not only this, but you can also set the window shades in your home to lower and raise at seemingly random times while you are away. This adds security as it looks as if someone is home.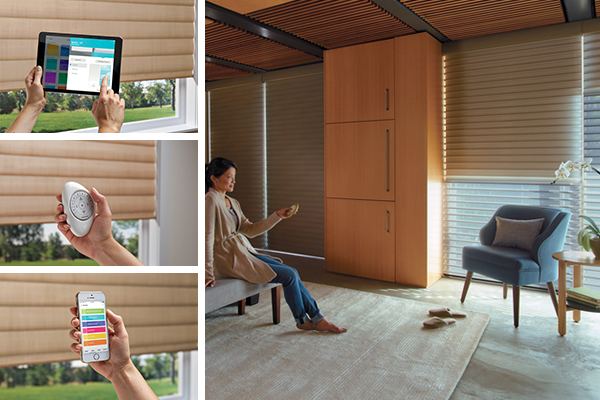 Combining Hunter Douglas Duette® LightLock™ with PowerView® Motorization provides you with the ultimate in luxury and room darkening control.
Other Types of Blackout Shades
Blackout shades can be used in different rooms all over the home. The most popular rooms are the bedrooms and any area where there is a screen, such as media rooms, living rooms, and conference rooms. Hunter Douglas room darkening window shades are uniquely designed to minimize seams, route holes, and light gaps. Innovative window designs have stunning fabrics, authentic woods or light sheers, paired with superior technology for an easy to operate room darkening window treatment.
Hunter Douglas has several room darkening blackout shades:
Alustra® Woven Textures®
Vignette® Modern Roman Shades
Sonnette™ Cellular Roller Shades
Pirouette® Window Shadings
Silhouette® Window Shadings
Duette® Honeycomb Shades
Designer Roller Shades
Modern Precious Metals® Aluminum Blinds
Parkland® Wood Blinds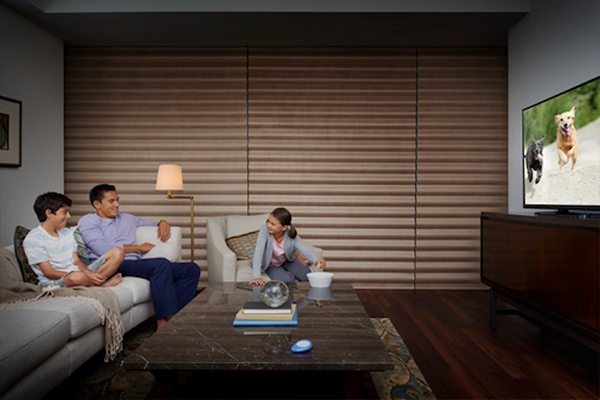 Shades on Wheels allows you to shop in the comfort of your own home. There is a clear advantage to using a shop-at-home window treatment service. Being able to see window shading samples and fabric swatches against your décor is an absolute must when decorating your home. Online fabrics can look very different when you receive them in person.
Take lighting and existing home décor into consideration when selecting blackout shades or any other window treatment.  It is beneficial to see what your window treatment fabrics look like in the actual room where you want to cover your windows. You'll be able to see with 100% certainty that your window treatments will look lovely against your wall color, or contrast well with your artwork and compliment your other fabric furnishings. Contact Shades on Wheels in Plymouth County, Norfolk County, Western Massachusetts, and Hartford County, Connecticut to schedule a free in-home consultation.