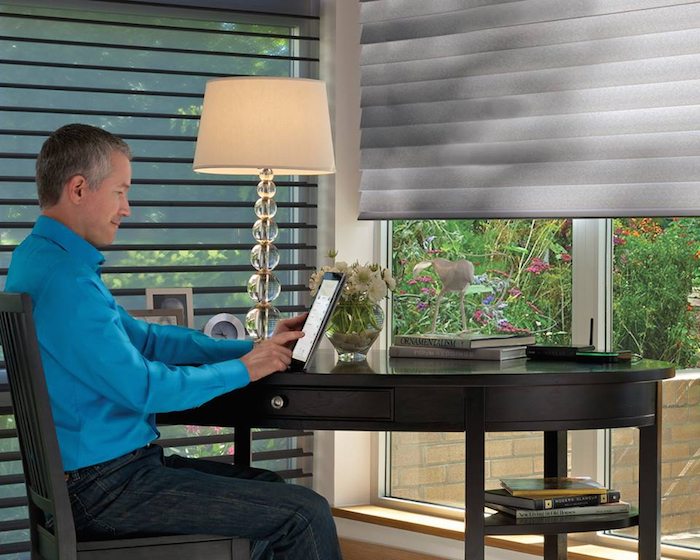 30 Aug

MOTORIZED SHADES – SMART SHADES AND A GREAT REBATE!

Motorized shades by Hunter Douglas are on sale now through September 12, 2016. Purchase Motorized shades or blinds during the Smart Shade Savings Event and SAVE BIG!

Receive a $150 Rebate when you buy *select Hunter Douglas window shades with PowerView® Motorization. PowerView® Motorization automatically lifts and lowers your shades and blinds according to preset times you choose during the day or night.

 
MOTORIZED SHADES ARE EASY TO MOVE UP OR DOWN
PowerView® Motorization is ideal if you have several windows in your home or office. You can operate all your shades at the same time from any room of your home or office. Do you have hard to reach windows? Motorized shades can do the work for you. Lifting your window shades is simple using Hunter Douglas PowerView® Motorization. Simply touch a button on your Pebble remote control to move your shades up or down. Have a techie in your home or office? Tap an App on your tablet, iPhone or Android device to control your window shades. 
Pebble remote control comes in multiple colors to match your home decor. It's super easy to operate. Raise your shades and blinds automatically at specific times of the day or night. Preschedule your shades at sunrise for maximum light control so you can either enjoy the early morning sunrise or sleep in late. The choice is yours. Lower your shades at sunset for complete privacy. 
Hunter Douglas PowerView® Motorization is innovative technology. PowerView® Motorization is the winner of the 2016 Red Dot Award from the design industry. Ask Shades On Wheels for a demonstration of PowerView® Motorization to experience why it's award-winning! It's virtually effortless to operate. 
MOTORIZED SHADES CAN OFFER A SENSE OF EMPOWERMENT
Motorized shades can offer a sense of empowerment to individuals who may have a disability. PowerView® Motorization makes it very easy to operate blinds and shades automatically. You can simply press a button from the comfort of your chair or bed to lift or lower the shades. PowerView® may be a great solution for a relative, family member or friend that might have difficulty lifting window shades manually. 
There are lots of reasons to buy motorized shades or blinds. It's convenient, simple and the ultimate in luxury and technology. Contact your nearest Shades On Wheels dealer in Norwell, Medfield, Agawam, Massachusetts and Wethersfield, Connecticut for more information. 
Shades On Wheels has been in business over 30 years serving Massachusetts and Connecticut residents and commercial businesses. Whether your looking for residential or commercial window treatments, Shades On Wheels is standing by for your call. Read more about PowerView® Motorization.