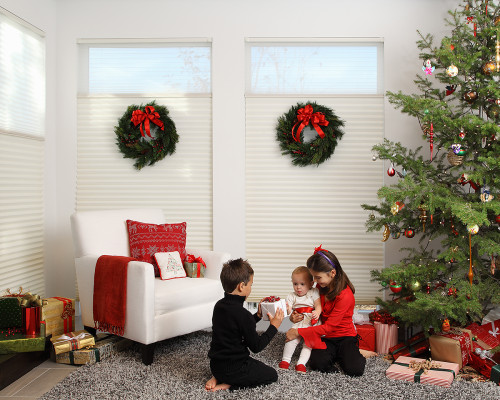 12 Nov

Custom Window Shades By Hunter Douglas Are Energy Efficient And Stylish

Custom window shades by Hunter Douglas are energy efficient and stylish helping you to save money on energy bills without compromising style. There are two Hunter Douglas custom window shades offered by Shades On Wheels that can reduce your energy costs in winter and summer.

Duette® Honeycomb Shades and Duette® Architella Honeycomb Shades are the best custom window shades to keep your
home warm this winter. Not only can these custom window shades help you save money, they are nothing short of stylish. Duette® Honeycomb Shades are cellular shades with distinct pockets that trap air inside keeping your home warm in the winter. If the winter here in New England is anything like last year, purchasing custom window shades with energy efficiency would be a smart window treatment choice.

Duette® is available with single and double honeycomb construction with multiple cell sizes. The fabrics are incredibly stylish and the options range from sheer to opaque. Shades On Wheels will help you choose a fabric color and size that will coordinate with your decor.

Duette® Honeycomb Shades are available in three different lifting systems:

• Powerview™ – A Wireless Motorized System
• LiteRise – A Cordless System
• UltraGlide – A Retractable System

See videos of how each system operates in it's own unique way on the Hunter Douglas website.

 
Energy Efficient Custom Window Shades Are On Sale
Duette® Honeycomb Shades are on sale during the Hunter Douglas Season Of Style Savings Event from now until December 7, 2015. Receive a $100 Rebate when you buy 4 Duette® Honeycomb Shades PLUS $25 per each additional unit. The Hunter Douglas custom window shades sale applies to Duette® Architella honeycomb shades with increased energy efficiency.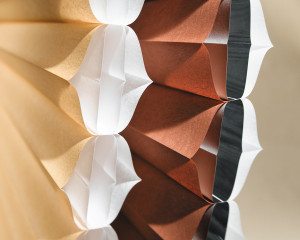 Duette® Architella Shades are simply stunning with the largest selection of fabrics, colors and pleat sizes to meet your needs. The Duette® Trielle® fabric delivers 20% more energy efficiency than the original Hunter Douglas Architella shade. Trielle™ fabric has six layers, five insulating air pockets and the largest 1.5 pleat size to provide added energy efficiency.Ask about IllumiCell™, an exclusive clear inner cell that diffuses natural light to enhance illumination and energy efficiency. This feature is the perfect solution for light control and increased energy efficiency. Since the days are getting shorter, darker and colder, it's important to choose custom window shades that can elevate your mood.
Top-Down-Bottom-Up Shades – Light Control & Privacy
Both the Duette® Honeycomb Shade and Duette® Architella Honeycomb shades have a top-down-bottom-up feature that
allows you to control light and privacy. The benefit of top-down-bottom-up is that you can maintain your favorite view outside by resting the shade at any location you want on the window.
Stylish custom window shades with energy efficiency at a savings this winter! What more can you ask for when it comes to Hunter Douglas custom window shades? Contact Shades On Wheels for more information. Shades On Wheels provides expert shop-at-home window treatment consultation in Norwell, Medfield, Agawam and surrounding areas of Massachusetts. In-Home services are available in Wethersfield, Connecticut and surrounding areas as well.