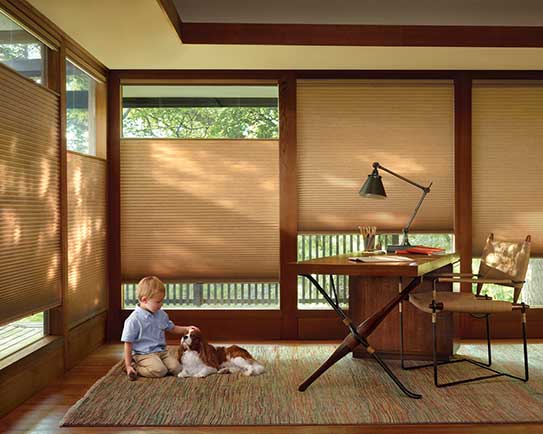 30 Oct

Custom Window Blinds Are Available Cordless & Motorized For Child & Pet Safety

Window Blinds with dangling or exposed cords can pose a threat to the safety of children and pets. It's a good idea to make sure draperies and blind cords are out of reach to prevent strangulation or injury. Shades On Wheels offers custom Window Blinds with various lifting systems by Hunter Douglas. Cordless blinds or motorized blinds can reduce potential hazards. From the LiteRise® cordless lifting system to the new Powerview™ Motorization by Hunter Douglas, Shades On Wheels will simplify your life while keeping safety at top of mind.

The LiteRise® cordless blind system allows you to push your shades up or down with the touch of your hand. If you are redecorating a child's room or have a newborn on the way, LiterRise® is a great lifting system. LiteRise® is available on most Hunter Douglas blinds or shades. Cordless blinds and shades are a great option. Especially, if you have cats or animals that love to play. Blinds without cords tend to have a streamlined, uncluttered look on the window as well. To source quality coreless blinds, you need to be on the lookout as pictures can be very deceiving! You may want to check out companies like https://www.solaire-blinds.co.uk/ for your blinds as then you'll know they're decent quality.
Custom Window Blinds With Motorization
Looking for cordless blind options? You can operate your custom window binds and shades using the new wireless Powerview™ Motorization system. Many homeowners and commercial businesses chose motorized blinds and shades for safety, hard to reach windows and overall convenience. Cordless blinds or wireless remote control shade operation creates a safer environment for children and pets.
You can easily download the new PowerView App on your smartphone or tablet. Operate your shades with a choice of two stunning remote controls called Pebble™. The Pebble™ remote control will automatically move your custom window blinds throughout the day at preset times you select. See how PowerView™ Motorization works.
The Powerview Pebble™ has a sleek new design and comes in many different colors to compliment your decor. The Powerview Pebble™ control gives you the ability to operate multiple window treatments in different rooms using the same remote. The PowerView Pebble™ Scene Controller has an advanced screen display so you can preview and select different room scenes and shade positions on your windows.
Custom Window Blinds Check
Check your window coverings for exposed or dangling cords and replace any necessary parts with safer cordless blinds or motorized shades. Speak with your Shades On Wheels window treatment expert about the best options for your residence or commercial business. Learn more about window covering safety on the Window Covering Safety Council website.