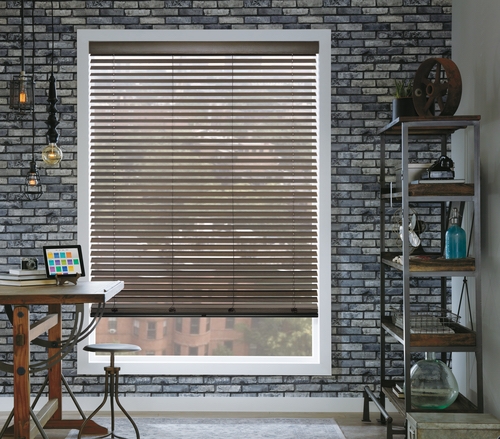 20 Jun

Wood Blinds Bring The Outside Beauty Inside Your Home

Wood blinds make an amazing design statement on your windows all year long. Hunter Douglas wood blinds are made in America out of 100% basswood. You can select from different slat stains and sizes to coordinate with your home or office decor. The natural beauty of hardwood has an exceptional look on your windows. Wood blinds give you the feeling of being outdoors all year round.
Coordinate Paint Colors With The Slats Of Wood Blinds
Coordinate your window blinds to complement an interior rock or stone wall. The combination of stain sizes and colors mixed with the stone and rock provide a natural look on the window. Slat sizes are available in rich colors like cherry or classic colors such as, white, oak and walnut. Why not enjoy the beauty of natural elements in your home or office everyday! Wood blinds look great next to painted walls too. Consider painting your wall color blue to mimic the sky or ocean. Pastel colors tend to be easy on the eyes in spring and summer. A fresh coat of paint even on one wall can add a splash of color. Colored accent walls are an easy way to freshen up the look of your home. Classic white cafe style shutters are a great option to cover your windows too.
Hunter Douglas blinds made with authentic wood come from sustainable forests across the United States. It's one of the main reasons why Shades On Wheels chooses to offer this type of Hunter Douglas window blind to consumers. If you purchase a Parkland® Wood Blind, Hunter Douglas makes a donation to the Arbor Day Foundation®. It's a great way to preserve and protect our trees.
Faux Wood Blinds Are An Alternative To Natural Wood
You can also purchase blinds with the look of real wood. A faux wood blind is an alternative to natural wood. The cost is lower than an authentic wood blind but you can still achieve a similar look on your windows. Wood blinds and shutters look beautiful on living room windows, children's rooms, bathrooms, office and bedrooms. You can match the color of your blinds to elements in any room such as headboards, wooden trunks, electric fireplaces and more. See the Shades On Wheels wood blinds website page to see more window covering ideas or call 1-800-462-5133 to schedule a FREE design consultation.
Shades On Wheels brings the blinds showroom to you in Norwell, Medfield, Agawam, MA, Wethersfield, CT and surrounding areas.