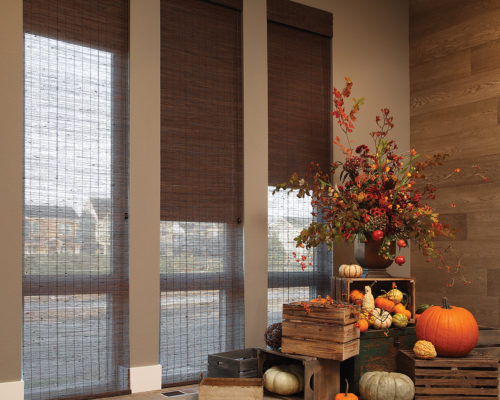 12 Sep

Custom Window Coverings Trends for Fall 2017

When was the last time you purchased custom window coverings for your space? If your custom window coverings look a bit outdated, it may be time for new blinds, window shades, plantation shutters or window draperies. Let us shed some light on some trendy custom window covering ideas for fall.

Custom Window Coverings Go Green

Going "green" is still top of mind with many homeowners and commercial businesses. Why not save money on your energy bills by purchasing Hunter Douglas energy-efficient window shades as we transition into fall! Cellular shades and honeycomb shades offer protection against the heat and cold. Block cold drafts with energy-efficient blinds to keep the heat inside your home. Choose from single, double or triple cell layers of protection based on your budget.

Roman Shades Are All The Rage

Shades On Wheels offers roman shades for traditional or contemporary room settings. Hunter Douglas Vignette® Roman Shades come in decorative patterns and stunning colors. Add custom drapery to roman shades for a complete window treatment look.

Custom Window Coverings With A Beachy Feel

Transform the look of your space with Hunter Douglas Provenance® Woven Woods made from natural grasses, reeds and materials. Woven wood shades are perfect for coastal areas of Massachusetts and Connecticut or if you are seeking a coastal look in your home all year round. Transform your kitchen or living room with light-filtering woven wood shades.

Drapes Galore Or Not At All

Floor to ceiling drapes or custom draperies in silk, linen, cotton or velvet can add warmth and beauty to your windows and overall home. Combining window shades with drapery can add a softness to any room scene. Experiment with floral patterns, animal prints, stripes and other pattern designs to compliment a custom window shade or blind in solid color. Stand-alone Hunter Douglas window shades or blinds can make an amazing design statement by choosing a bold color or fabric pattern with exquisite texture.

Sleep is at a premium these days with so much going on in the world. Our minds are so busy with all this digital technology. Room darkening shades or blackout shades can help you minimize or block disruptive light entering into your bedroom early in the morning. Let your mind and body rest with blinds and shades that can offer you the best light control options for your bedroom. Motorize your window treatments so you don't even have to get out of bed to operate your window shades. Select Hunter Douglas window shades and blinds are on sale at Shades On Wheels until 12/11/17. Contact Shades On Wheels at 1-800-462-5133 to learn more about the following sales on these window shades and blinds:

1 Luminette® Privacy Sheer

 (plus $100 REBATE for each additional unit)

2 Pirouette® Window Shadings

(plus $50 REBATE for each additional unit)

2 Silhouette® Window Shadings
(plus $50 REBATE for each additional unit)

2 Vignette® Modern Roman Shades

(plus $50 REBATE for each additional unit)

4 Duette® Honeycomb Shades

(plus $25 REBATE for each additional unit)

Shades On Wheels is a certified Hunter Douglas window treatment design consultant serving Massachusetts and Connecticut for over 30 years. For more information about Hunter Douglas window fashions contact a Shades On Wheels location near you.  Shades On Wheels brings the window blinds, window shades, wood shutters and drapery showroom to you.