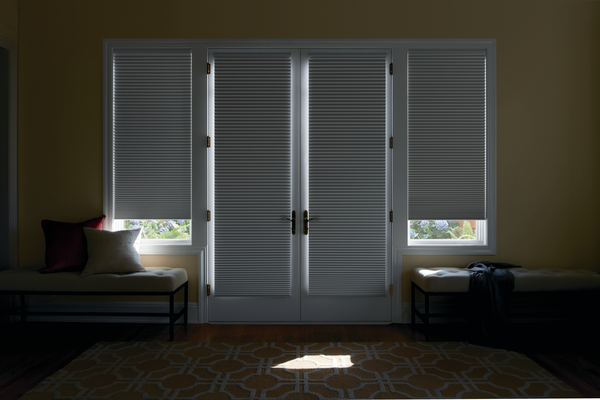 04 Aug

Blackout Blinds For Every Season

Blackout blinds are a practical window covering solution in every season. A main concern for homeowners this time of year is sun exposure and heat. South facing windows can produce excess heat and glare increasing the temperature in your home. Blackout blinds or room darkening blinds reduce heat while maximizing light control options.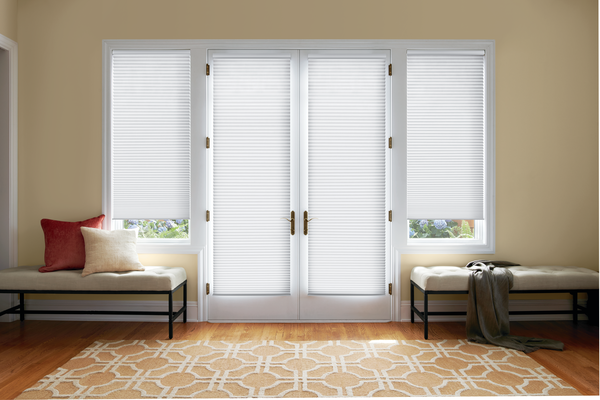 Shades On Wheels offers Hunter Douglas blackouts shades and room darkening blinds for all types of rooms. Bedrooms and guest rooms are ideal for window blinds with blackout shade fabrics. Especially, if you and guests want to sleep in late. The sun can stream into a room early in the morning but with Duette® Honeycomb Shades LightLock® you can block all incoming light.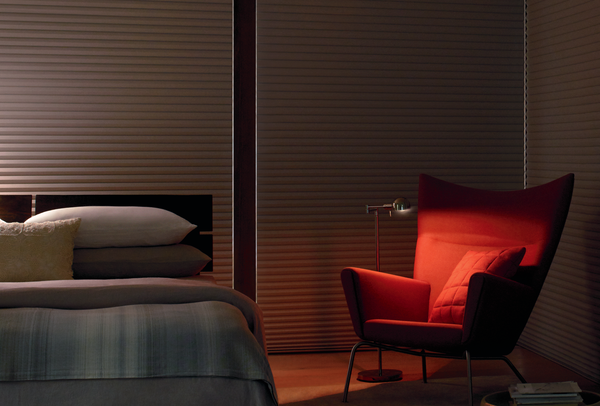 If you want to achieve complete darkness in a bedroom, living room or media room, Hunter Douglas Duette® LightLock is one of the best window shades for blocking light. No incoming light can seep through the sides of the blinds with a LightLock® side channel. The window shades are easy to install and come with many features and benefits.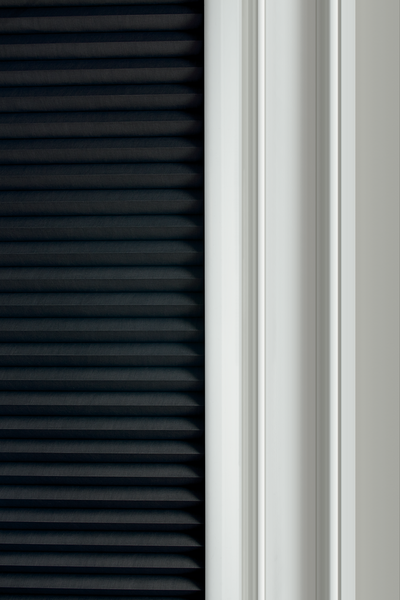 Duette® Honeycomb Shades with LightLock® comes in many stylish fabrics. There is no need to compromise on style to achieve light and temperature control. Moms and Dads love blackout blinds and shades for children's and nursery rooms too. Duette® LightLock® with LiteRise® features an easy to use handle. Raise and lower your blinds with the touch of your hand. Cordless blinds and shades enhance child and pet safety. Reduce any risks associated with blind cords.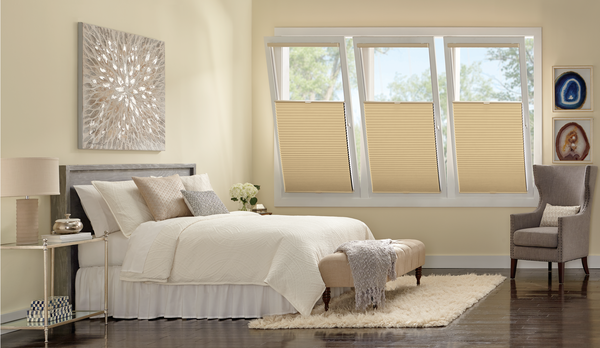 Versatile Home Blackout Blinds
Honeycomb shades and cellular shades are also energy efficient. The fabrics keep your home cool in summer and warm in winter. The honeycomb fabric shape traps air to help maintain the perfect temperature in your home. Another great feature of Duette® Honeycomb Blinds is the top-down, bottom-up. Homeowners absolutely love this feature. It allows you to place your shades at any place on the window. Capture views of the sky and trees at the top of the window while maintain privacy at the bottom.
The bottom-up feature on honeycomb or cellular shades allows you to have views anywhere you want. The best light control and views can be obtained easily by placing your custom shades at any point on the window. Many homeowners choose this window shade for safety, versatility, and style. It's great for windows with beautiful views of a pool or backyard. Hunter Douglas Duette® and Applause® Honeycomb shades are available on vertical window applications like sliding glass doors.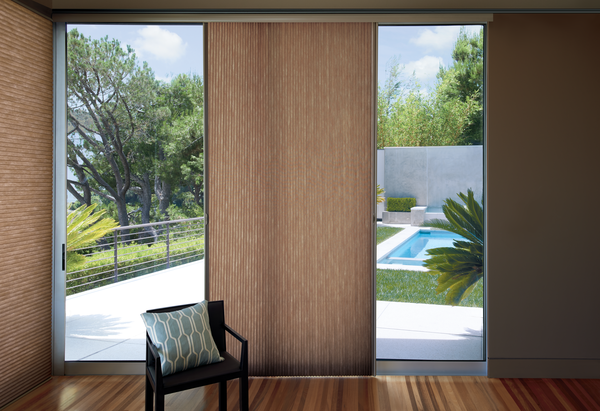 Blackout Fabrics Allow Some Light
Hunter Douglas Vignette® Modern Roman Shades and Silhouette® Window Shadings are also available in room darkening fabrics. Roman shades have an elegant look on windows with cascading fabrics and beautiful colors. Silhouette® Window Shadings have sheer fabrics similar to a curtain. Both of these window shades have room darkening fabrics. If you prefer some light entering into your room, these window shadings might be an alternative to complete blackout shades.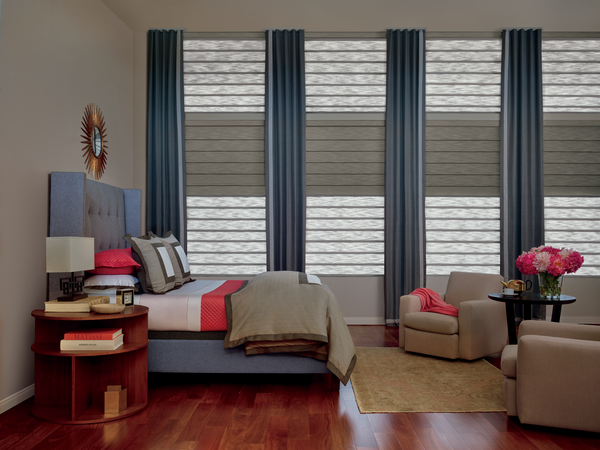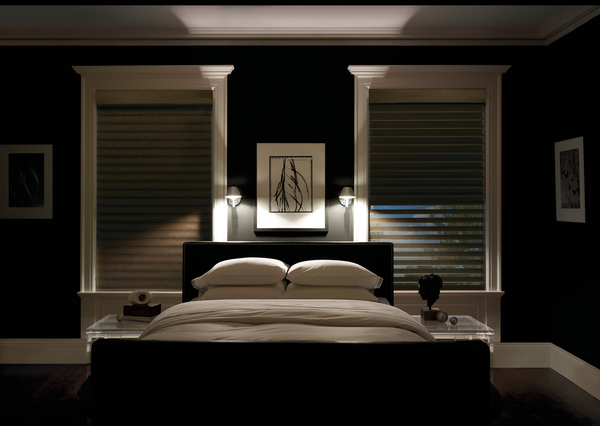 If you have lots of windows or very large windows in your home, automated shades may come in handy. Hunter Douglas PowerView® Motorization is smart home technology to move all the shades in your home so you don't have to. Duette® window shades can be programmed to move at specific times of the day or night so you can control temperatures and sunlight. Just ask Alexa, Siri, or Google to raise, lower or open your shades and blinds. Many Hunter Douglas shades can be controlled with an iPhone, Android, Tablet, or the Pebble® remote control if you prefer.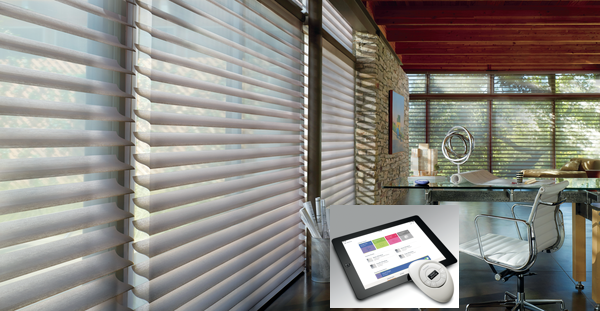 Automated shades are ideal if you have high windows or skylights. Motorized blinds can also come in handy if you have furniture positioned in front of your windows. Hunter Douglas PowerView® Motorization is perfect if you have any difficulty reaching a window. The blinds are also very practical if you want to conserve energy in your home. You can set your shades to raise and lower depending on the location of the sun and temperatures in your home.
Hunter Douglas PowerView® Motorization is on sale this summer at Shades On Wheels 'til 9/7/20. Get great rebates starting at $150* when you purchase PowerView® Motorization with the associated hub on qualifying Hunter Douglas blinds and shades. Contact Shades On Wheels in Plymouth County, Greater Boston, Western Massachusetts or Hartford, Connecticut to learn more about room darkening blinds and automated window shades. Contact a window shades expert at Shades On Wheels for a Free In-Home Consultation.