It is months like these when everyone desires room darkening shades and blackout blinds. August is the hottest and sunniest time of year in New England. The light seeps in though our windows before 6:30am every morning and sets late in the evening. Although it is lovely to have these long bright days, it can wreak havoc on sleeping patterns. Here are four benefits of having room darkening shades and blackout blinds.
1. Room Darkening Shades Offer UV Protection
Room Darkening shades and blackout blinds offer UV protection from harmful UV light. We are all aware of the effects harmful UV light can have on our skin but it can also be destructive to your soft furnishings, artwork and floors! UV light can make your wallpaper, vinyl floors and pictures fade, and over time it can also damage your wooden floors and furniture; so darkening shades could also help to provide your peel and stick wallpaper with protection. This can be especially costly for wooden floors because they can be expensive to replace. Taking good care of them is important, this is why many people decide to find the best steam mop for wood floors to contribute to their care alongside having room darkening shades.
2. Privacy While Still Admiring the View
Choose between different fabric opacities so that you can reduce harsh light. Room darkening shades and black out shades are available in top-down, bottom-up so you can enjoy the view and still have privacy. One of the biggest benefits of top-down, bottom up, room darkening shades is to block natural sunlight wherever you want it on your windows. Maintain a view or have total darkness in bedrooms, guest bedrooms or media rooms.
3. Create Darker Rooms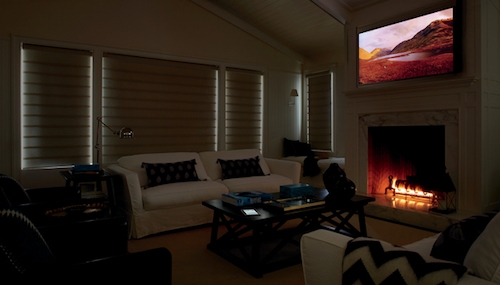 In addition to having room darkening shades and blackout blinds in your bedroom for a better nights sleep, there are other places around your home that could be improved by flexible light control. Think about the living room and reducing the light glare on your TV screen or your computer monitor in your home office.
4. Room Darkening Shades That Add a Pop of Color
Room darkening shades and blackout blinds come in a variety of designs, from sophisticated elegance to minimalist modern window fashions. You can combine function and style with the many different window treatment options available to you from Shades on Wheels. Transform your space by adding a pop of vibrancy or decide on more subtle muted tones. The choice is yours with the wide variety of colors for you to choose from.
Sheer fabrics typically soften and filter sunlight, while semi-opaque and opaque fabrics almost completely block it. Hunter Douglas window treatments offers room darkening shades and blackout blinds with maximum light-blocking qualities. Uniquely designed to minimize light gaps, seams and rout holes such as the de-Light™ feature. These are just a handful of options available to you:
Roller shades
Combine a sleek, modern design with the ability to create just the right amount of light and privacy while minimizing glare. Roller shades are available in an array of colors and semi-opaque and opaque fabric options. Room darkening and blackout roller shades enable you to enjoy ultimate light-control and have flexibility anytime of day.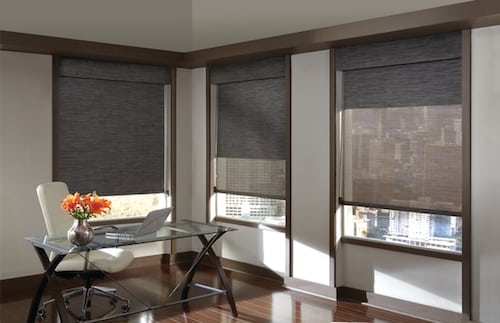 Silhouette® Duolite® Shades
Consider the stunning Silhouette® shade but with an independently operated room-darkening roller shade nestled behind it. You can position the roller shade at any height for increased light control flexibility and privacy.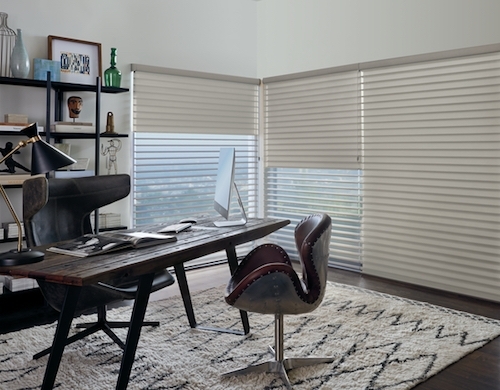 Vignette® Duolite® Shades
Similar to the Silhouette® shade, the revolutionary Vignette® Duolite® combines a sheer light-filtering shade with a room-darkening back panel that both operate on a single roller. Choose between soft, natural light or soothing darkness whenever you want.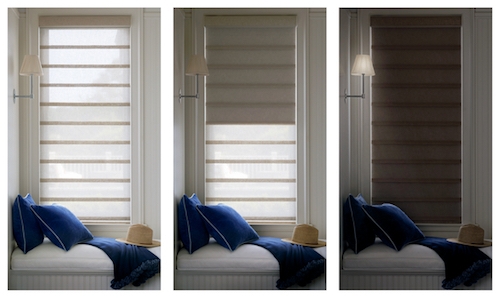 Duette Architella® Shade
The Duette Architella®. Shade uses an intelligent honeycomb design to trap air, creating insulated air pockets, using multiple layers of fabric. Use the blackout Duette Architella® shade to keep your home cooler in the summer and warmer in the winter.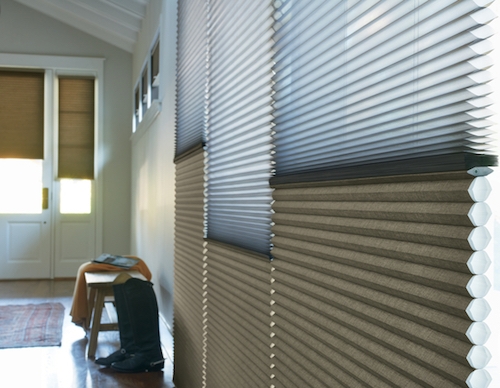 Parkland® Wood Blinds
The Parkland® Wood Blinds are made from beautifully crafted solid wood with the de-Light design that hides cord holes helping to block light and create a more finished appearance.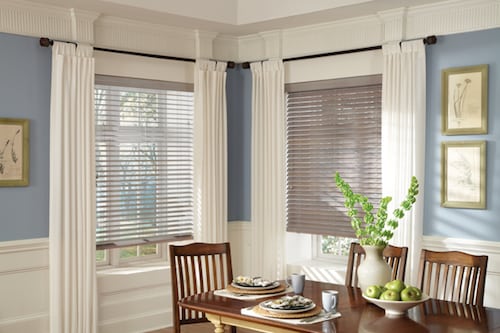 There are so many options for room darkening shades and blackout blinds that ultimately it just comes down to your decorating taste and lifestyle. Shades on Wheels offers a free in-home design consultation so that your individual style can be complemented and enhanced by the right Hunter Douglas window treatment. Schedule a consultation by calling 1-800-462-5133 or fill in the form on our contact page.
Shades On Wheels has been serving Norwell, Medfield, Agawam, MA , Wethersfield, CT and surrounding towns for over 30 years. Choose from Hunter Douglas window blinds, custom window shades, plantation shutters and draperies in the comfort of your own home or office.